Tijdlijn maken in Office
V. Kan ik een tijdlijn maken in Word of Powerpoint?
A. Je kan het doen met autovormen (bv. cilinders) in Powerpoint of Word, dat je helpt om exact horizontaal te plaatsen en aan te sluiten. Je moet gewoon de lengte instellen in functie van de relatieve duur (als je samen 8u hebt en dit stuk is 1u, moet het geheel 8x zo lang zijn dan dit stuk).
Je kan het doen met SmartArt, zoals getoond in http://www.microsoft.com/education/CreateTimeline.aspx. Maar de verschillende periodes of stappen zijn niet proportioneel.
Je kan het ook doen met een scatterdiagram (spreidingsdiagram) in Excel. Er is een template te vinden op http://www.vertex42.com/ExcelArticles/create-a-timeline.html
Te ingewikkeld? Het kan met een gestapelde staafgrafiek in Excel. Zie http://www.mrexcel.com/articles/timeline-chart-in-excel.php
Of zo:
– Maak een lijst met de gebeurtenissen, met telkens begin en eindmoment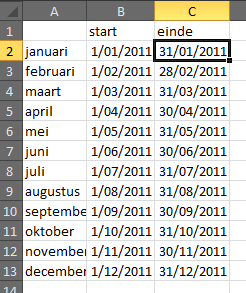 – Maak nadien in een kolom een rij met als eerste de begindatum, en in elke volgende cel het verschil in eenheden (dagen bv.). Dat geeft dus één cel meer dan het origineel.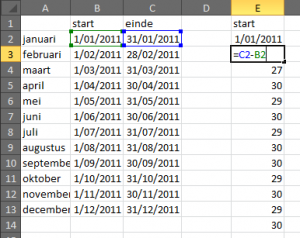 – Selecteer die gegevens en maak een 100% gestapelde staaf- of kolomgrafiek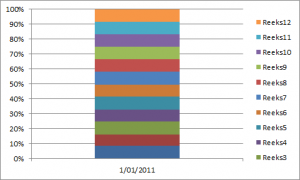 – Rechtsklik op de gegevens, en bewerk elke "Reeks" apart om die het label te geven van die periode.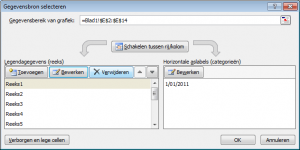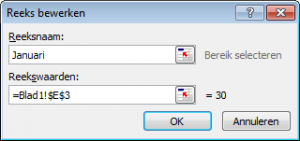 – Klaar. Nu moet je nog kopiëren en uitknippen.