Als je in een PC klas lesgeeft of spreekt en de beamer gaat stuk, kan je nog steeds de deelnemers (die aan een PC zitten) je presentatie laten zien.
In Powerpoint 2010: Bestand, Opslaan en verzenden.

Dat levert een adres op

dat je kan afkorten via www.tinyurl.com of gelijkaardig, en projecteren. Zolang de presentatie loopt, kunnen de mensen op dat adres volgen.
Ingewikkeld? Je kan de presentatie ook op een Skydrive map plaatsen die je kan delen. Via web apps kan ze online bekeken worden.
Of je kan de presentatie publiceren en delen op Google docs waar de mensen ze kunnen vinden en bekijken.
Een tip voor lesgevers of presenteerders die in een lokaal dat het hune niet is Powerpoint opstarten en vaststellen dat het programma niet wil starten, en de presentatie zelf ook niet opent.
Ga naar www.skydrive.com, laad het bestand op en open het online in Powerpoint web apps. Als je internet toegang hebt, kan je een presentatie perfect tonen zonder dat Powerpoint op het toestel zelf werkt.
Interessant op de Microsoft sites de afgelopen week:
USERS
12 tips for creating better PowerPoint presentations
http://www.microsoft.com/atwork/skills/presentations.aspx
HARDWARE
Check out this prototype Arc Touch Mouse!
http://windowsteamblog.com/windows/b/windowsexperience/archive/2011/12/09/check-out-this-prototype-arc-touch-mouse.aspx
DEVELOPMENT
Silverlight 5 Available for Download Today
http://blogs.msdn.com/b/silverlight/archive/2011/12/09/silverlight-5-available-for-download-today.aspx
Official Visual Studio 2008 VB.NET Samples
http://code.msdn.microsoft.com/Official-Visual-Studio-f48134ec
INTERNET EXPLORER 9 / 10
Moving to Standards-based Web Graphics in IE10
http://blogs.msdn.com/b/ie/archive/2011/12/07/moving-to-standards-based-web-graphics-in-ie10.aspx
Use SVG, not VML
Use CSS3, not DX Filters
Media Capture API: Helping Web developers directly import image, video, and sound data into Web apps
http://blogs.msdn.com/b/ie/archive/2011/12/09/media-capture-api-helping-web-developers-directly-import-image-video-and-sound-data-into-web-apps.aspx
V. Hoe kan ik een stroomschema invoegen in Powerpoint of Word?
A.In Office 2010 kom je met Invoegen, SmartArt al een heel stuk op weg. Als dat niet voldeonde is of als de Rools-Royce Visio te hoog gegrepen is: er zijn alternatieven waarvan een een aantal gratis zijn.
Aviary laat je mooie schema's maken. Exporteren of kopiëren vereist echter een abonnement.
Cacoo vraagt ook een abonnement, dat gratis is. Je krijgt deze werkomgeving:

In de rode zone de elementen die je kan toevoegen, en in de gele de verbindingen die je kan maken.
Opslaan kan met een apart menu. Het gratis abonnement laat alleen PNG toe.
Eén van de meest gelezen artikels op deze blog gaat over het aanmaken van een tijdlijn. Ik val net op de gratis tool http://www.officetimeline.com/, en wil die graag deleen met mijn lezers.
V. Ik zag laatst een presentatie waar een Twitter banner over liep. Hoe krijg je Twitter in Powerpoint? Ik zag overigens ook een schermvullend Twitter ding met nieuwe tweets over één onderwerp. Is dat ook Powerpoint?
A. Het eerste is waarschijnlijk de Powerpoint-Twitter tool van SAP http://www.sapweb20.com/blog/powerpoint-twitter-tools/, het tweede mogelijk de website http://www.anothertweetonthewall.com/ (druk op F11 nadat je de hashtag hebt ingegeven).
V. Naar verluidt kan je in Office 2010 de achtergrond wegnemen van een foto. Hoe werkt dat?
A. Als je een foto invoegt en selecteert, staat er links een knop Remove background (onder Picture tools, Format):

In het paars verschijnt wat Word of Powerpoint met de huidige instellingen zou verwijderen. Dan heb je dit te doen:
vergroot de kader die verschijnt, zodat alles wat je de foto wil overhouden, in die kader zit
markeer de gebieden die niet mogen gewist worden (Mark areas to keep)
markeer de gebieden die samen met de achtergrond moeten verdwijnen (Mark areas to remove)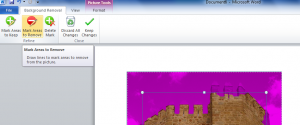 En je bent er:

V. Bij sommige presentaties krijg ik een preview in Windows Verkenner, maar andere niet. Ik ben op zoek naar Save thumbnail, maar dat vind ik niet.
A. Klopt: Excel en Word hebben een Save thumbnail optie bij het opslaan, maar Powerpoint niet.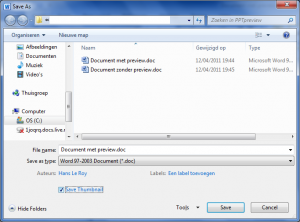 In Powerpoint is het de bestandsindeling en de extensie die bepaalt of er een preview is.

Bestanden in de 97-2003 indeling en met de PPS extensie, worden niet gepreviewed.
V. Ik gebruik Powerpoint soms om een poster te maken. Als ik een tekstvak invoeg, zou ik dat graag naast een ander tekstvak zetten. Kan ik die op dezelfde hoogte krijgen?
A. Ja, dat kan. Maak een nieuwe dia (Ctrl+M), en rechtsklik om onder Indeling te kiezen voor een lege dia.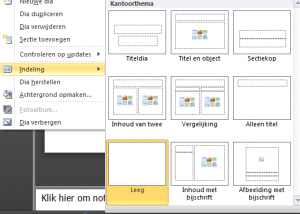 Nu kan je een tekstvak tekenen (Invoegen, Tekstvak). Je plaatst daar best al iets in.

Je kan nadien het tweede tekstvak tekenen. Na het tekenen kan je de rand vastgrijpen en slepen. Powerpoint geeft een hulplijn voor het positioneren (onderkant, midden, bovenkant).

Zo'n hulplijnen krijg je ook als je illustraties ten opzichte van elkaar wik positioneren, en ook in Word (dat geen hulplijnen geeft voor tekstvakken).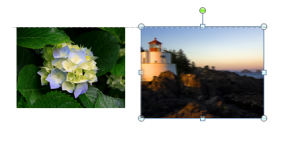 TIP: als je toch tekst naast elkaar wil plaatsen, wil je misschien een tabel gebruiken.