Soms krijg je bij het openen van een Excel werkboek de vraag of externe links moeten bijgewerkt worden. Dikwijls echter wéét je niet eens of er externe links zijn – die kunnen het resultaat zijn van het aanklikken van een cel in een blad dat openstaat in een ander venster, en dat onbedoeld een ander werkblad is.
Het is makkelijk die terug te vinden: zoeken naar een formule met .xl
Ctrl+F, Zoeken naar, .xl – Zoeken in, Formules.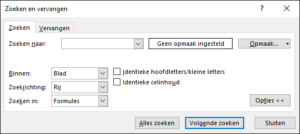 Meer details in https://support.office.com/en-us/article/Find-links-external-references-in-a-workbook-fcbf4576-3aab-4029-ba25-54313a532ff1