Over steenhouwers en informatieverwerkers
Schrift is een geweldige uitvinding die enorm veel betekent voor de evolutie van de menselijke beschaving.
In den beginne (laat ons daaronder verstaan : een tijd die we ons nu niet meer kunnen voorstellen) werd er geschreven op steen of op papyrus.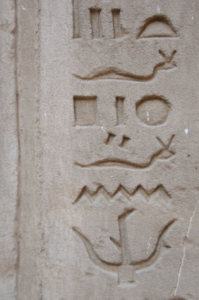 Tekst schrijven was een technische aangelegenheid met hoge complexiteit. De schrijver was verantwoordelijk voor hoe de tekst eruit zag.
…
Vele millennia later werd er een typmachine uitgevonden, met standaardletters en veel andere mogelijkheden. Later nog kwam de computer met software voor tekstverwerking. En toch slaat het me elke keer opnieuw met absolute verstomming hoezeer sommigen in technologische episodes zijn blijven steken waar ze nooit deel van hebben uitgemaakt. Tekstverwerking heeft iets geïntroduceerd dat niet bestond: het flowen (vloeien) van teksten.  Documenten passen zich aan aan de teksten en de wijzigingen van de teksten: je voegt iets toe bijvoorbeeld en alles past zicht aan. Dat is het radicaal omgekeerde van tekst die door de schrijver vast op zijn plaats moet gebeiteld worden. En toch. Toch blijven zo vele mensen vasthouden aan steenkappers-ambachtelijke mechanismen.
Mijn tips: gebruik nooit (nooit dus, gene zever)
twee of meer opeenvolgende spaties
maar zet een tab
twee of meer opeenvolgende tabs
maar gebruik inspringen (ctrl+M in >ord) of hangend inspringen (ctrl+T)
twee of meer opeenvolgende enters
maar gebruik voor een nieuwe pagina ctrl+enter of (véél beter) alinea-opmaak, pagina-einde ervoor
en gebruik voor afspatiëring (ruimte voor en na tekst) alinea-opmaak, ruimte voor/na
En plaats illustraties in een tabel – het niét doen gaat een gigantische meerkost meebrengen in oplossen van tig problemen die héél eenvoudig vermeden hadden kunnen worden maar nu virtueel onoplosbaar zijn.