Office Mix is een gratis plugin voor Powerpoint die je kan downloaden van op http://mix.office.com.


1. Na installatie zie je een MIX tab in Powerpoint.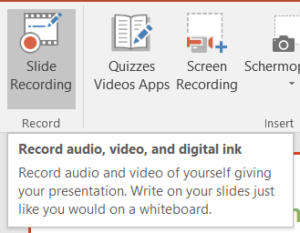 2. In die tab is er een knop Slide recording om audio op te nemen, en digitale inkt.



3. Je kan instellen of je audio wil opnemen, of ook video.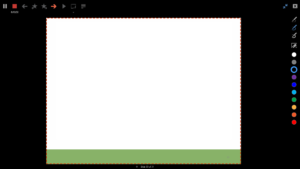 4. Na Start recording spreek je in wat je te vertellen hebt over elk van de slides. Je gaat naar de volgende slide als je klaar bent.
5. Het resultaat is een audiofragment bij elk van de slides. Als het niet goed gelukt is, kan je zo'n audiofragment deleten. Maar je kan er bv. ook een quiz in integreren.
6. Mix is een platform om je presentaties interactief te maken. Je kan de presentatie online publiceren en cijfers krijgen over het gebruik ervan, bv.
Heb je méér nodig, of een andere manier van formuleren? Kijk eens naar de handleiding op http://www.zdnet.com/product/microfsoft-office-mix/. Of op Youtube.