V. Kan ik aan de Smartart figuur een kolom toevoegen? Het is een grouped list. Ik heb geprobereerd met rechtsklikken, vorm toevoegen, maar wat wordt toegevoegd is leeg.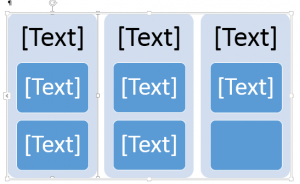 A. Ja, het kan zeker. Maar omdat je een complexe figuur wil toevoegen, moet je dat anders doen. Haal het tekstvak (text pane) tevoorschijn indien niet zichtbaar, door de opdracht Text pane, of te klikken op het pijltje naar links op de SmartArt figuur.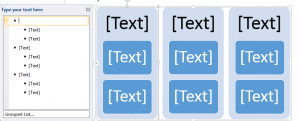 In dat tekstvak kan je tekst plaatsn voor die vakken, en die tekst kan je promoten (in een lager vak zetten) of promoten vanop het lint.