V. Kan ik een grafiek maken met illustraties in plaats van kleurvlakken?
A. Ja. Maak de grafiek, selecteer en rechtsklik om de eigenschappen in te stellen.

Nadien kan je bij opvullen bepalen dat je een beeld wil gebruiken. Je kan kiezen voor een bestand, het klembord of een online afbeelding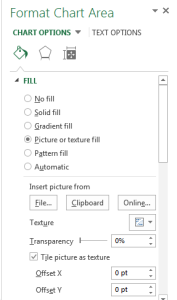 En Excel stelt je bij die laatste optie voor om een beeld te zoeken bij de online cliparts, via Bing of van je Onedrive bestanden.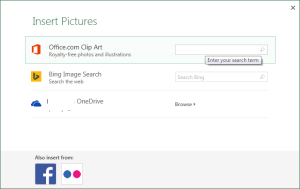 Meer info: http://www.tech-recipes.com/rx/32184/excel-create-a-pictograph/