Windows 8 is op de markt sinds 26 oktober. De meningen zijn niet onverdeeld, maar we willen graag ons steentje bijdragen tot de documentatie van deze versie van Windows die zo radicaal anders aanvoelt ("aanvoelt", eerder dan "is"). en uiteindelijk zal je er toch mee te maken krijgen.
Vooraf dit: Windows 8 is vooral touch-gebaseerd. We bekijken deze Windows dus op onze tablet PC (een mooie Samsung ATIV Smart PC).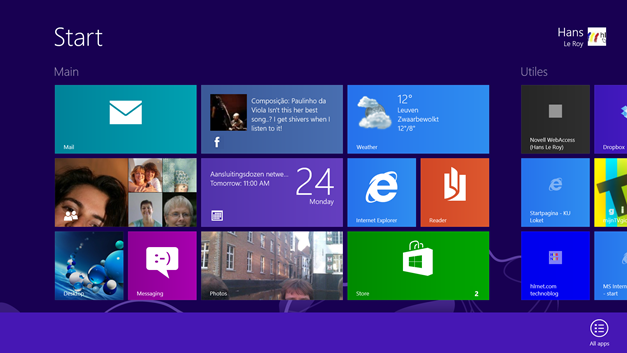 a
Het eerste dat opvalt is het Windows scherm met tegels. Die tegels bevatten bv. een icoon, maar mogelijk ook afbeeldingn (foto's uit je afbeeldingenbibliotheek, het aantal berichten dat op je wacht, de eerstvolgende afspraak in je agenda, …). Je kan tegels aanduiden of erop dubbelklikken. Je kan scrollen (met de muis of met een vinger).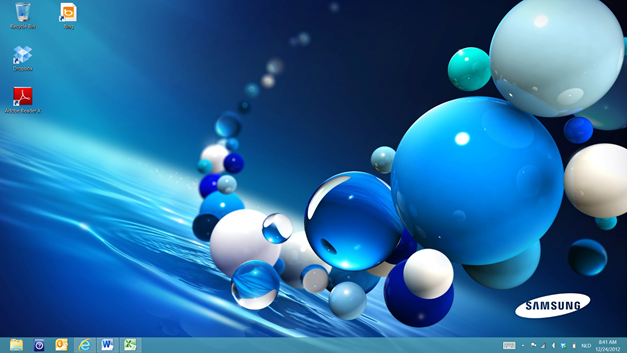 Er is ook een tegel die je door laat klikken naar desktop. Dit is een meer "gewone" omgeving: taakbalk met de geopende en vastgepinde programma's, iconen op bureaublad, schakelen tussen verschillende geopende programma's. Wat opvalt is dat de startknop verdwenen is. Verdwenen? Neen – de startknop is vervangen door het Windows 8 scherm met de tegels.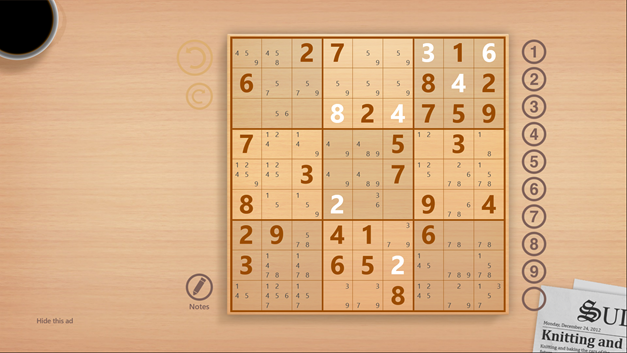 Als je een programma start in Windows 8 (vanop een tegel) opent dat programma meteen schermvullend. De andere programma's die eventueel draaien, verdwijnen dan naar de achtergrond. Wat verder opvalt is dat er geen menu is in dat programma, en geen knoppen. Maar als je met de vinger van onder naar boven veegt op het scherm, verschijnt het menu.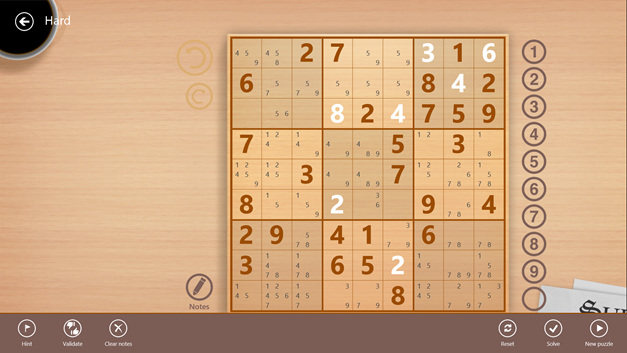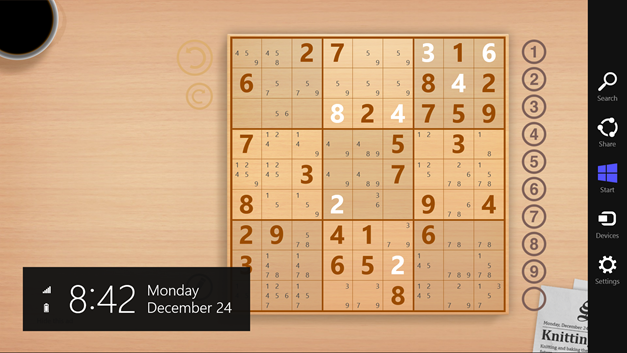 En als je van de linkerkant naar het midden veegt, verschijnen de zgn. Charms – algemene opdrachten: zoeken (in dit programma of elders), delen, start, devices, instellingen).
Een veelgehoorde klacht is dat je geen zicht meer hebt op andere programma's die draaien. Dat lijkt me niet terecht: door de vinger van de linkerkant van het scherm naar rechts te schuiven, ga je naar de applicatie die voordien op de voorgrond stond, en door de muis te bewegen tegen de linkerkant van het scherm (van linksboven naar beneden), verschijnt de lijst van de geopende programma's.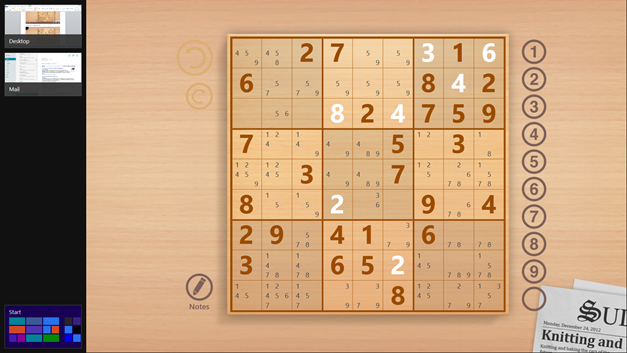 Op het startscherm zijn er een reeks tegels die in groepen zijn onderverdeeld.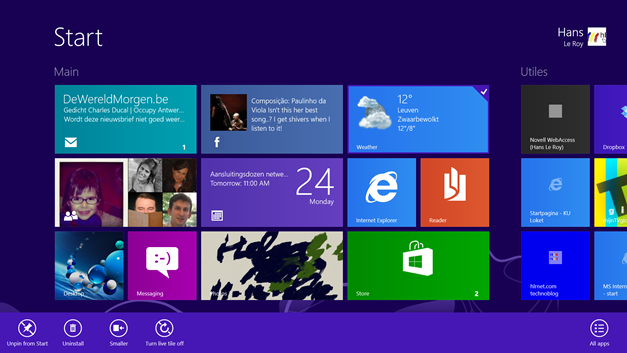 Bij het zoeken kan bv. kiezen om te zoeken in bestanden (files). Maar je kan ook zoeken in de instellingen, in de app store, op internet, in mail of in contactpersonen.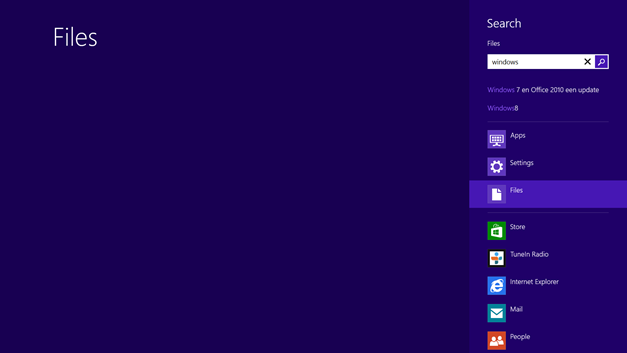 Typisch aan Windows 8 is de connectiviteit: het besturingssysteem en zijn programma's vertrouwen op een internet-connectie om aan gegevens te geraken of de gegevens up te daten. Zo toont de Maps applicatie de plaats waar je je bevindt, en je kan in- en uitzoomen.
Een besturingssysteem is niets zonder programma's. De typische Windows 8 applicaties heten Apps.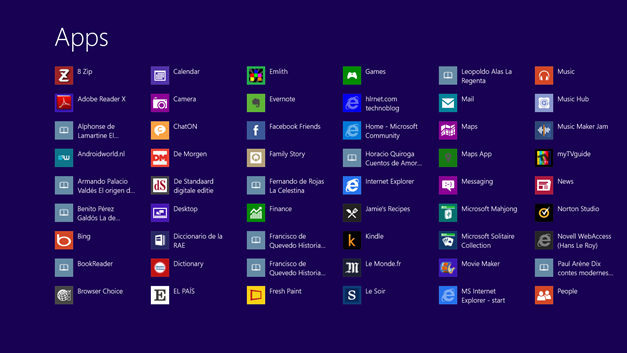 Je kan nieuwe apps zoeken in de app store. Soms zijn die apps betalend, maar zeer zeker niet altijd.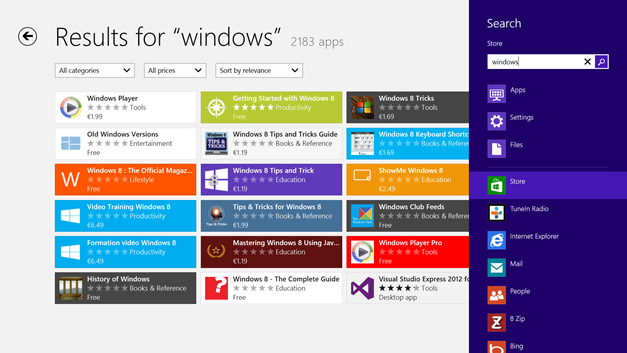 Als je zo'n app installeert, wordt die toegevoegd aan het Windows 8 scherm. Je kan de plaats zo'n tegel wijzigen: sleep de tegel even naar beneden, en je kan verplaatsen. Je kan in een andere groep plaatsen door het Windows 8 scherm te verkleinen (twee vingers naar elkaar schuiven). Je kan door dat even naar beneden schuiven een hele groep verplaatsen of hernoemen.
Tenslotte nog dit:
Je kan uiteraard ook andere programma's installeren. Die worden dan gestart / weergegeven op bureaublad.
Er is véél meer te vertellen over Windows. Een aantal dingen komen hier later nog aan bod, maar er zijn uiteraard handleidingen online en offline.
Niets vervangt echter ervaring. Je zal wat moeten wennen, maar het went wel degelijk – en je krijgt er een heel aparte computerervaring bij.