V. Je hebt nu wel getoond en gezged hoe je een rij kan toevoegen aan een Word tabel met ALT. Maar is er ook een sneltoets om een rij te verwijderen?
A. Neen, eigenlijk niet. De vraag komt regelmatig terug, maar wat het kortst in de buurt komt is zelf een macro maken die je aan een sneltoets toekent (bv. http://help.wugnet.com/office/Word-2003-Delete-row-keyboard-shortcut-ftopict1162951.html). Alternatieven die het kortst in de buurt komen:
De rij selecteren door te klikken op de linkermarge, rechtsklikken, Cellen verwijderen, Hele rij verwijderen.
Maar dat doe je met de muis, en is dus geen sneltoets.
De rij selecteren door te klikken op de linkermarge, Shift+Backspace, Hele rij verwijderen.
Maar dat selecteren moet met de muis gebeuren, en het is dus ook geen sneltoets.
De rij selecteren, ALT+JR (Tabellen Indeling), D (verwijderen), R (rij).
V. Van tijd tot tijd wil ik het adres van een wbesite terugvinden en ergens opslaan. Ik ga naar Google, zie de pagina staan, rechtsklik op het adres en kopieer. Maar dat adres is een Google adres. Wat kan ik doen?
A. Dat is een van de manieren waarop Google bijhoudt hoe dikwijls er op een link geklikt wordt. Wat je kan doen:
Eventueel: selecteer het adres dat in het groen onder de beschrijving staat. Echter: dat adres kan afgekapt zijn (en bevat dan …) en een stuk (je zoekwoorden) kunnen in het vet staan.
Beter: Ctrl+klik op de link, die dan in een nieuwe tab wordt geopend. Je kan het adres kopiëren van op de adresbalk van die nieuwe tab.
Of gebruik Bing, dat die onhebbelijke gewoonte niet heeft.
V. Kan je nog eens uitleggen hoe je commentaar kan aan- of uitzetten bij een WordPress post? Ik zoek en zoek, maar vind alleen de algemene instelling onder Settings, General.
A. Die instelling staat onderaan een post of pagina wanneer je aan het schrijven of editen bent.

Maar je zegt dat je het niet vindt: dat betekent dat je ze moet aanzetten onder Screen options bovenaan.


V. Ik heb ergens gehoord dat er secties zijn in Powerpoint. Hoe zit dat?
A. Ja, Powerpoint 2010 introduceert secties. Het werkt een beetje zoals in Word, maar in plaats van en sectie-einde, voeg je in Powerpoint een sectie in.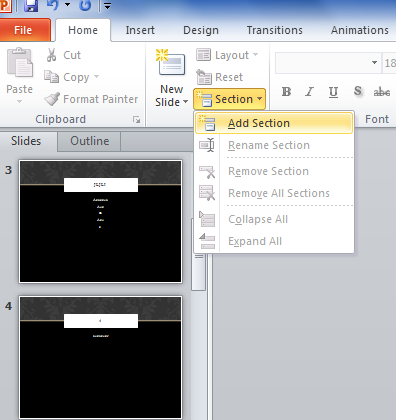 Nadien kan je bv. een ander opmaakmodel toepassen op die aparte sectie. Je kan een sectie ook samenvouwen.