V. Kan ik een verschillende woordenlijst hebben in Word en Powerpoint? Als ik nu een woord toevoeg aan de woordenlijst van de ene, kent de andere dat ook.
A. Beiden gebruiken dezelfde CUSTOM.DIC woordenlijst by default. Je kan echter een (of beide) wijzigen: Office knop, Word/Powerpoint Options, Proofing.
V. Als ik een bestand van mijn webserver wil wijzigen of ween tekstbestand voorbereid voor publicatie, krijg ik soms vreemde vierkantjes in plaats van enters of spaties. Vanw aar komen die? Hoe kan ik dat het makkelijkst oplossen?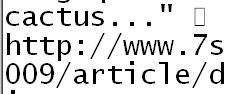 A. Dat komt omdat Linux niet op dezelfde manier enters markeert dan Windows. De eenvoudigste oplossing is om het bestand te openen in Word. Vergeet zeker niet om op te slaan als tekst (niet in Word formaat!). Of je kan in Notepad opslaan als Unicode.
Visual Studio Lightswitch is op komst. Het wordt aangekondigd als volgt:
Microsoft Visual Studio LightSwitch Beta helps you solve specific business needs by enabling you to quickly create professional-quality business applications, regardless of your development skills. LightSwitch is a new addition to the Visual Studio family.